About Us
Lin's Kitchen is a Chinese takeaway in Oldbury. Why don't you try our Chicken with Spring Onions & Ginger or Kung Po Chicken?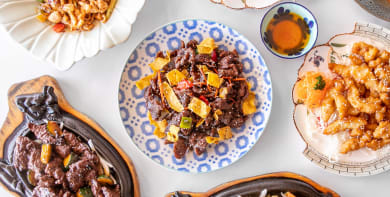 Reviews
202 reviews
Karen
"Best Chinese ever and we've had a few - every single dish was perfect - highly recommend !!"
04/06/2020
trinity
"Amazing food and amazing service 10/10 would smash again"
31/05/2020
Matt
"Efficient but food lacking seasoning"
30/05/2020
Valerie
"So glad you're five stars. Thank you."
30/05/2020
Menu
Chicken in Black Pepper Sauce
Hot & spicy
£5.00
Beef in Black Pepper Sauce
Hot & spicy
£5.20
Duck in Black Pepper Sauce
Hot & spicy
£5.70
Pork in Black Pepper Sauce
Hot & spicy
£5.10
King Prawns in Black Pepper Sauce
Hot & spicy
£5.70
Special in Black Pepper Sauce
Hot & spicy
£5.80
King Prawns Crispy Noodles
£5.80
Mixed Vegetables Crispy Noodles
Vegetarian
£5.30
House Special Rice Noodles
£5.70
Mixed Vegetables Rice Noodles
£5.00
Singapore Style Rice Noodles
Hot & spicy
£5.30
Vegetable Singapore Rice Noodles
Hot & spicy
Vegetarian
£5.00
Deep Fried Beancurd with Salt & Pepper
Hot & spicy
Vegetarian
£4.80
Deep Fried Fish with Salt & Pepper
Hot & spicy
£5.70
Deep Fried King Prawn with Salt & Pepper
Hot & spicy
£5.70
Deep Fried Shredded Chicken with Salt & Pepper
Hot & spicy
£5.10
Deep Fried Squid with Salt & Pepper
Hot & spicy
£5.70
Mixed Vegetables Udon Noodles
Vegetarian
£4.90
Mushroom Udon Noodles
Vegetarian
£4.90
Mixed Vegetable Massaman Curry
Hot & spicy
Vegetarian
£6.10
Mixed Vegetable Thai Curry Green
Hot & spicy
£6.10
Mixed Vegetable Thai Curry Red
Hot & spicy
£6.10
King Prawn Massaman Curry
Hot & spicy
£6.60
Special Thai Curry Green
Hot & spicy
£6.80
Special Thai Curry Massaman
Hot & spicy
£6.80
Special Thai Curry Red
Hot & spicy
£6.80
Chicken Thai Curry Green
Hot & spicy
£6.30
Chicken Thai Curry Red
Hot & spicy
£6.30
Chicken Massaman Curry
Hot & spicy
£6.30
Beef Thai Curry Green
Hot & spicy
£6.30
Beef Thai Curry Red
Hot & spicy
£6.30
Beef Massaman Curry
Hot & spicy
£6.30
King Prawn Thai Curry Green
Hot & spicy
£6.60
King Prawn Thai Curry Red
Hot & spicy
£6.60
Duck Thai Curry Green
Hot & spicy
£6.30
Duck Thai Curry Red
Hot & spicy
£6.30
Duck with Green Pepper in Black Bean Sauce
Hot & spicy
£5.80
Beef with Green Pepper in Black Bean Sauce
Hot & spicy
£5.20
Chicken with Green Pepper in Black Bean Sauce
Hot & spicy
£5.00
Special in Black Bean Sauce
Hot & spicy
£5.80
Prawn with Green Pepper in Black Bean Sauce
Hot & spicy
£5.70
Pork with Green Pepper in Black Bean Sauce
Hot & spicy
£5.20
Pineapple Fritters in Syrup
£3.00
Szechuan Hot & Sour Soup
Hot & spicy
£3.30
Set Meal A For One Person
Sweet & sour chicken balls (5)
Any dish from (chicken OR pork OR beef)
Egg fried rice
£8.70
Set Meal B For Two Persons
Special dim sum combination for two
Sweet & sour chicken Hong Kong style
Beef with mushrooms
Special fried rice (2 x small)
£19.00
Set Meal C For Three Persons
Special dim sum combination for 2
King prawn with mushrooms
Beef in black bean sauce
Chicken in Thai sweet & chilli sauce
Special fried rice (3 x small)
£30.00
Set Meal D For Four Persons
Special dim sum combination for 4
King prawn in black bean sauce
Crispy shredded chilli beef
BBQ pork Char Sui
Chicken with mushrooms
Special fried rice (4 x small)
£39.00
Set Meal E For 2 (Min 2 Persons)
Crispy aromatic duck (quarter)
Sweet & sour chicken Hong Kong style
Beef with mushrooms
King prawn with cashew nuts
Stir fried mixed vegetables
Special fried rice
£26.00
Mixed Vegetable with Sauce (A) Sweet & Sour
Vegetarian
£4.30
Mixed Vegetable with Sauce (B) Black Bean Sauce (Hot)
Vegetarian
£4.30
Mixed Vegetable with Sauce (C) Sweet Chilli (Hot)
Vegetarian
£4.30
Mixed Vegetable with Sauce (D) Satay (Hot)
Vegetarian
£4.30
Mixed Vegetable with Sauce (E) Szechuan (Hot)
Vegetarian
£4.30
Mixed Vegetables with Cashew Nuts
Vegetarian
Contain nuts
£4.70
Bamboo Shoots & Water Chestnuts
Vegetarian
£3.20
Beancurd with Green Pepper in Black Bean Sauce
Hot & spicy
£4.70
Beancurd with Mixed Vegetables
£4.70
Grilled Sirloin Steak with Onions & Mushrooms
£8.00
Roast Duck Cantonese Sauce
£5.70
Roast Duck in Honey Sauce
£5.70
Roast Duck in Orange Sauce
£5.70
Roast Duck in Special Chilli Sauce
Hot & spicy
£5.70
Roast Duck with Mushrooms
£5.70
Roast Duck with Pineapple
£5.70
Roast Duck with Plum Sauce
£5.70
Roast Duck with Spring Onions & Ginger
£5.70
Szechuan Chicken
Hot & spicy
£5.00
Kung Po Chicken
Hot & spicy
Contain nuts
£5.00
Honey Chicken & Pineapple
£5.30
Honey Chilli Chicken
Hot & spicy
£5.30
Chicken with Satay
Hot & spicy
Contain nuts
£5.00
Chicken with Special Chilli Sauce
Hot & spicy
£5.00
Chicken with Spring Onions & Ginger
£5.00
Chicken with Mixed Vegetables
£5.00
Crispy Shredded Chilli Chicken
Hot & spicy
£5.30
Chicken with Cashew Nuts
Contain nuts
£5.30
Capital Crispy Shredded Chicken
£5.30
Capital Crispy Shredded Beef
£5.40
Beef with Cashew Nuts
Contain nuts
£5.40
Beef with Spring Onions & Ginger
£5.20
Beef in Satay Sauce
Hot & spicy
Contain nuts
£5.20
Crispy Shredded Chilli Beef
Hot & spicy
£5.40
Szechuan Beef
Hot & spicy
£5.20
Pork with Satay Sauce
Hot & spicy
Contain nuts
£5.10
Pork with Spring Onions & Ginger
£5.10
Roast Pork with Mange Tout
£5.10
Roast Pork with Mixed Vegetables
£5.10
Roast Pork with Special Chilli Sauce
Hot & spicy
£5.10
Szechuan Pork
Hot & spicy
£5.10
Chicken in Thai Sweet & Chilli Sauce
Hot & spicy
£5.10
BBQ Pork in Thai Sweet & Chilli Sauce
Hot & spicy
£5.10
Duck in Thai Sweet & Chilli Sauce
Hot & spicy
£5.70
Special in Thai Sweet & Chilli Sauce
Hot & spicy
£5.80
King Prawn in Thai Sweet & Chilli Sauce
Hot & spicy
£5.70
Spicy Chips
Salt & pepper style
Hot & spicy
£2.60
Sauce (B) Sweet & Sour Sauce
£1.70
Sauce (E) Black Pepper (Hot)
£1.70
Sauce (F) Black Bean (Hot)
£1.70
Sauce (G) Sweet & Chilli (Hot)
£1.70
Beansprouts & Onion Chow Mein Large
£3.90
Beansprouts & Onion Chow Mein Small
£3.40
Singapore Chow Mein
Hot & spicy
£5.30
Mushroom Chow Mein
Vegetarian
£4.60
Vegetables Chow Mein
Vegetarian
£4.60
Oriental Beef
Dry stir fried piece of beef with mixed peppers
£5.70
Oriental Star
Chicken, roast pork, king prawns & seasonal vegetables with oriental spicy sauce
£5.70
Special Chicken
Sliced roast chicken served on a bed of sautéed beansprouts in our chef`s sauce
£5.70
Sesame Chicken
Chicken coated in light batter & sesame seed in plum sauce
£5.70
Happy Family
BBQ pork, duck, king prawn & chicken with Chinese leaf, very popular Chinese family dish
£5.70
Chicken Kra Prow
Hot & spicy
£5.30
Beef Kra Prow
Hot & spicy
£5.30
Special Kra Prow
Hot & spicy
£6.20
Pork Kra Prow
Hot & spicy
£5.30
King Prawn Kra Prow
Hot & spicy
£5.80
Mixed Vegetables Fried Rice
Vegetarian
£4.80
Pineapple & Cashew Nuts Fried Rice
Vegetarian
Contain nuts
£4.90
Sweetcorn & Peas Fried Rice
Vegetarian
£4.50
Mushroom Fried Rice
Vegetarian
£4.80
Chinese Roast Duck & BBQ Pork Fried Rice
£5.50
Kids Chicken Chow Mein with Chips in Curry Sauce
£4.10
Kids Chicken Fried Rice with Chips in Curry Sauce
£4.10
Kids Chicken Nuggets & Chips
£3.40
Kids Chips & Chicken Balls in Sweet & Sour Sauce
£4.10
Kids Chips & Egg Fried Rice in Curry Sauce
£3.70
Kids Egg Fried Rice & Chicken Balls
In sweet & sour sauce
£4.10
Kids Fish Fingers & Chips
£3.40
Kids Plain Omelette & Chips
£3.40
Mushroom, Fried Rice & 3 Spare Ribs Beef
£6.60
Mushroom, Fried Rice & 3 Spare Ribs Chicken
£6.60
Chicken Cantonese, Fried Rice & 3 Spare Ribs
£6.60
Fried Rice & 3 Chicken balls Crispy Beef
£6.60
Fried Rice & 3 Chicken balls Crispy Chicken
£6.60
Egg Fried Rice & 3 Chicken Balls Beef in Black Bean Sauce
£6.30
Egg Fried Rice & 3 Chicken Balls Chicken in Black Bean Sauce
£6.30
Curry, Fried Rice & 3 Chicken Balls Beef
£6.30
Curry, Fried Rice & 3 Chicken Balls Chicken
£6.30
Sweet & Sour Chicken Balls
£5.10
Sweet & Sour Chicken Hong Kong Style
£5.10
Sweet & Sour Crispy Shredded Beef Hong Kong
Style
£5.40
Sweet & Sour Fish Hong Kong Style
£5.60
Sweet & Sour King Prawn Balls
£5.80
Sweet & Sour King Prawns Hong Kong Style
£5.70
Sweet & Sour Pork Hong Kong Style
£5.10
Jumbo Mussels in Black Bean Sauce
Hot & spicy
£5.70
Jumbo Mussels with Spring Onions & Ginger
£5.70
Kung Po Fried Squid
Hot & spicy
£5.50
Kung Po King Prawns
Hot & spicy
Contain nuts
£5.70
Mixed Seafood in Black Bean Sauce
Hot & spicy
£6.00
King Prawns in Chilli Plum Sauce
Hot & spicy
£5.70
King Prawns in Satay Sauce
Hot & spicy
Contain nuts
£5.70
King Prawns with Cashew Nuts
Contain nuts
£5.90
King Prawns with Chop Suey
£5.70
King Prawns with Mixed Vegetables
£5.70
King Prawns with Mushroom
£5.70
King Prawns with Special Chilli Sauce
Hot & spicy
£5.70
King Prawns with Spring Onions & Ginger
£5.70
Stir Fried Squid in Black Bean Sauce
Hot & spicy
£5.50
Szechuan King Prawns
Hot & spicy
£5.70
Special Dim Sum Combination
Bags of Gold (2), mini rolls (2), chicken wings (2), Won Ton (2), spare ribs (2), prawn toast (2) with sweet & chilli sauce
£7.40
Mini Spring Rolls with Dip (6)
£3.60
Mini Vegetable Spring Rolls with Dip (6)
Vegetarian
£3.30
Mixed Platter Starter For 2
Spare ribs, prawn toast, seaweed, mini rolls with dip
£6.40
Pork Spare Ribs (A) BBQ Sauce
£5.50
Pork Spare Ribs (B) Capital Sauce
£5.50
Pork Spare Ribs (C) Honey Sauce
£5.50
Pork Spare Ribs (D) Sweet & Sour Sauce
£5.50
Pork Spare Ribs (E) Dry Ribs
£5.50
Pork Spare Ribs (F) Dry Salt & Pepper (Hot)
£5.50
Fried Bag of Gold with Dip (6)
£4.00
King Prawn Satay Starter
4 skewers
Contain nuts
£5.70
Crispy Aromatic Duck Half
Served with cucumber, spring onions, Hoi Sin sauce & pancakes
£15.00
Crispy Aromatic Duck Quarter
Served with cucumber, spring onions, Hoi Sin sauce & pancakes
£8.00
Crispy Seaweed
Vegetarian
£3.50
Deep Fried Won Ton with Dip (6)
£3.80
Dim Sum Combination
Mini rolls (2), prawn toast (2), Won Ton (4) with dip
£4.80
Chicken Wings (A) BBQ Sauce
£4.30
Chicken Wings (B) Capital Sauce
£4.30
Chicken Wings (C) Honey Sauce
£4.30
Chicken Wings (D) Sweet & Sour Sauce
£4.30
Chicken Wings (E) Dry Salt & Pepper (Hot)
£4.30
Chicken Wings (F) Dry Spicy Chicken Wings (Hot)
£4.30
Chicken Satay Starter
4 skewers
Contain nuts
£5.10
Vegetable Pancake Roll (Large)
Vegetarian
£2.40
Beef Curry, Fried Rice & 3 Chicken Balls
£6.00
Beef in Black Bean Sauce & Egg Fried Rice
With 3 chicken Balls
£6.00
Beef with Mushroom, Fried Rice & 3 Spare Ribs
£6.30
Chicken Cantonese , Fried Rice & 3 Spare Ribs
£6.30
Chicken Curry, Fried Rice & 3 Chicken Balls
£6.00
Chicken in Black Bean Sauce & Egg Fried Rice
With 3 chicken balls
£6.00
Chicken with Mushroom, Fried Rice & 3 Spare Ribs
£6.30
Crispy Beef, Fried Rice & 3 Chicken Balls
£6.30
Crispy Chicken, Fried Rice & 3 Chicken Balls
£6.30
Chicken Curry
Hot & spicy
£5.90
Mushroom Curry
Hot & spicy
£5.30
King Prawns Curry
Hot & spicy
£6.10
Mixed Vegetables Curry
Hot & spicy
£5.30
Special Curry
Hot & spicy
£6.30
Contact Us
Find Us
42 Rood End Road, Oldbury, B688SG
We deliver to
B62, B65, B66, B67, B68, B69, B70